Chevin House
Farm & Cottage is situated in open countryside on the slopes of the
beautiful Derwent Valley. Chevin Side Cottage stands on a lovely
elevated site in its own grounds surrounded by gardens and fields. It is
fully detached and accessed by a private driveway and enjoys panoramic
views of the area. Whilst offering beautiful farm and country views the
cottage is located only 1 ½ miles from the Historic Mill Town of Belper.
The cottage retains the olde worlde character and charm whilst offering
the modern facilities required for an enjoyable stay.
Chevin Side Cottage was
purchased in 1993 in a derelict condition, professionally restored to
today's high standards and is fully insulated with double glazing.
Fresh farm eggs and logs for use on the open fireplace are available to purchase from the farmhouse.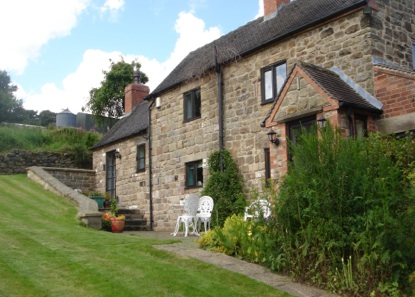 Working Hours :
Now Opening

UTC + 0
Monday

08:00 - 12:00

13:30 - 18:00

Tuesday

08:00 - 12:00

13:30 - 18:00

Wednesday

08:00 - 12:00

13:30 - 18:00

Thursday

08:00 - 12:00

13:30 - 18:00

Friday

08:00 - 12:00

13:30 - 18:00

Saturday

08:00 - 12:00

13:30 - 18:00

Sunday

08:00 - 12:00

13:30 - 18:00