In October 2012 we added to our five-salon strong group across Derbyshire with a sixth stylish salon housed in the prestigious village of Duffield, Derbyshire. The salon was extended in 2015 to double the size of the original salon.
Situated next to the River Derwent on Tamworth Street, the salon fuses old and new for a beautifully fresh décor.  The redesign has been sympathetic to the building, utilising a mix of exposed brickwork, reclaimed wood and contemporary furniture alongside stunning oversized mirrors to enhance the feeling of space.
The stylists at Duffield have won numerous professional awards. Zoe is our resident L'Oreal Colour Specialist while Angel added the title of 2015 'Backstage Stylist of the Year' to her many other industry awards. Deesh is a member of the salon group Art Team and recently completed the prestigious L'Oreal ID Artist programme after finalising in the 'Best Extensionist' category of the 2015 HAIR Awards.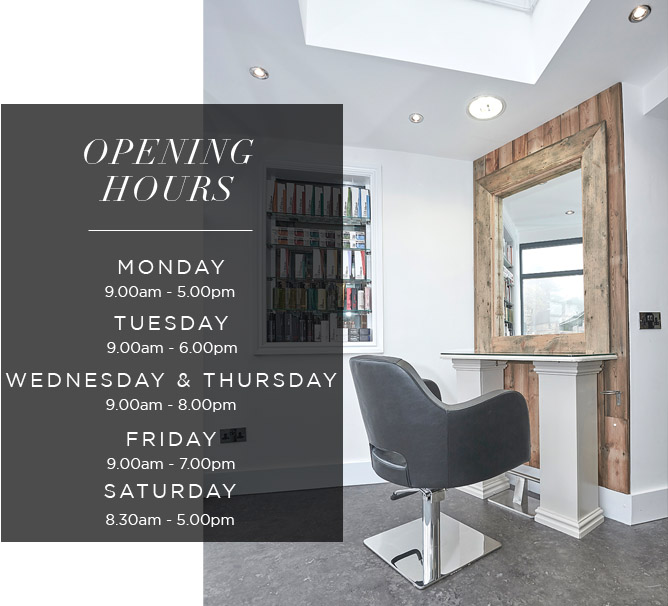 Working Hours :
Now Opening

UTC + 0
Monday

08:00 - 12:00

13:30 - 18:00

Tuesday

08:00 - 12:00

13:30 - 18:00

Wednesday

08:00 - 12:00

13:30 - 18:00

Thursday

08:00 - 12:00

13:30 - 18:00

Friday

08:00 - 12:00

13:30 - 18:00

Saturday

08:00 - 12:00

13:30 - 18:00

Sunday

08:00 - 12:00

13:30 - 18:00